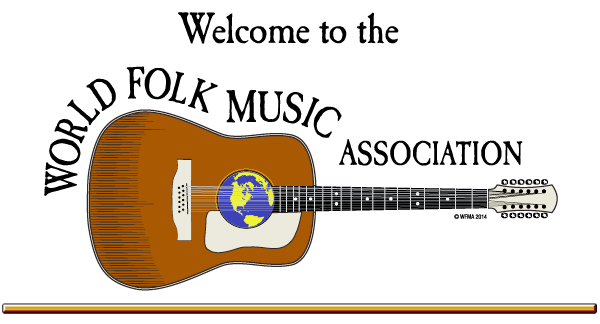 WFMA News
WFMA's monthly Showcase Series is held at , a wonderful restaurant in downtown Bethesda, MD, just 3 blocks from the Bethesda Metro (and with plenty of FREE parking on Sundays). These showcases are normally held on the second Sunday of each month (at 7 PM unless otherwise noted). Our goal is to bring you performers who have been favorites at our events over the years and introduce new performers to you as well.

We are excited to be able to offer three new items by in our online store. We now have available the outstanding, The Chad Mitchell Trio: Then and Now 3 DVD Set, which contains footage from several of the Trio's early 60s TV appearances, as well as the 1987 Reunion Concert with John Denver, and more recent concerts in Spokane, WA and Bayfield, WI. Also available are the The Chad Mitchell Trio: Then and Now Scrapbook and a CD single, "The George Bush Society."

Also available for the first time in the WFMA Store are 10 CDs by and

On Thursday, December 15, 2016 (replacing our December showcase) we presented a very special Holiday Concert and CD Release Party by Dave entertained us all with songs of the holiday season and songs from his latest CD, Live at Baldwin's Station which was recorded live on May 26, 2016, at Baldwin's Station in Sykesville, MD. The concert was held at , in downtown Bethesda. A Maine native and son of the late Tom Rowe (Schooner Fare), Dave has delighted audiences throughout the Northeast and Mid-Atlantic areas as a member of one of his various bands or as a solo performer and we were fortunate to be able to present him in concert.

On June 25, 2016 we had the honor of presenting in an intimate, house concert setting at the home of Bruce Cohen, in Silver Spring. In the 60s, Pie was a member of the The Pozo Seco Singers, whose recording of "Time" reached #1 in major markets throughout the US. After leaving The Pozo Seco Singers, Pie's solo career included the release of several CDs, most notably the critically aclaimed So Little Has Changed, in 2008, and her being inducted into the Old Time Country Music Hall of Fame in 2015. gave a wonderful, intimate performance, with a short opening set by local singer-songwriter, Len Jaffe. You can find out more about the concert here.

On Thursday, April 7 (replacing our April 10 showcase) WFMA presented legendary singer-songwriter, (to a sold-out audience) at in downtown Bethesda, MD. Mallett's songs, including "The Garden Song," have been recorded by numerous artists, and sung by adults and kids of all ages.

On January 2, 2016, we presented Songs, Stories and Out and Out Lies at in Silver Spring, MD. A capacity crowd enjoyed a evening of entertaining stories and songs by actor, singer/songwriter and storyteller, Ronny is most noted for his acting in movies and on TV, with over 125 movies and TV shows to his credit, including Deliverance, Total Recall, Robo Cop, Beverly Hills Cop and many more. But Ronny's first love has always been music. He now spends most of his time as a singer/songwriter performing at folk festivals, concert venues and small intimate theaters all of the U.S. We were very fortunate to have him with us at El Golfo on January 2.

On Thursday, November 12, 2015, delighted an enthusiastic crowd at the Bethesda Blues and Jazz Supper Club with a concert that included a wide range of America's favorite music, including their biggest hits, "The Green Leaves of Summer," "Yellow Bird," "Greenfields" and many more.


The Side by Side Aloha Concert on September 26, 2015, at the Jewish Community Center in Rockville, MD was an amazing evening of music.

This was the last opportunity to see in concert before Doris Justis retires and moves to Hawaii. Doris and Sean were joined by three of the best instrumentalists around, Paul Prestopino, Bob Hefferan and Ron Greenstein. And other friends of dropped in to join in the celebration, including two-time Grammy Award winner, our "special surprise guest," and, as a complete surprise to Doris and Sean,

While the audience in the Kreeger Theater thouroughly enjoyed the concert, some technical issues prevented us from broadcasting much of the show on Concert Window. But we have learned from this first experiecence with Concert Window and expect to be much more successful on our next broadcast. We apologize to those not able to view the show online. We were able to capture the last 45 minutes of the concert from our Concert Window broadcast and have uploaded it to YouTube. You can view it here:



The long awaited Chad Mitchell Trio Farewell Concert DVD is now available! This two-disc DVD set contains the entire Chad Mitchell Trio Farewell Concert, November 15, 2014 with performances by Tom Paxton, Side by Side, the Gaslight Singers and of course, The Chad Mitchell Trio. More details can be found here.

Have you spent your Sunday nights wishing you could still listen to Dick Cerri's "Music Americana?" For many of us, Sunday nights were devoted to listening to the music that Dick (and the rest of us) loved.

Now, thanks to the efforts of one of Dick's biggest fans, Mike Marmer, we can listen to the music, interviews, folk quizzes, and commentary that we all enjoyed when Dick was on the air. Mike has made available a sampling of Dick's shows online. You can find more information here.


An Evening with the Chad Mitchell Trio and Friends: The Farewell Concert

On Saturday, November 15 we presented the last U.S. performance by Aside from a cruise in March of 2015, this was the very last opportunity to hear the music of this trio that has delighted audiences for over 50 years. This final concert was held at the beautiful Betheda Blues and Jazz Supper Club in downtown Bethesda, MD. There were some special surprises and of course, time to remember and celebrate the life of Father Joe. While no one could take Joe Frazier's place, Ron Greenstein, who has played bass for the trio since 2009 and has been filling in for Joe on vocals since 2011, joined Chad and Mike for the concert. Also sharing in this celebration were and the Gaslight Singers.


The WFMA Store is now Online. WFMA products may now be ordered online using a major credit card. New WFMA "Friends of Folk Music" memberships can also be processed through the online WFMA Store. New members will receive a free gift: Give Yourself to Love, a special CD containing highlights of the 15th Annual WFMA Benefit Weekend.





To receive WFMA updates via email, request to be added to our email mailing list.