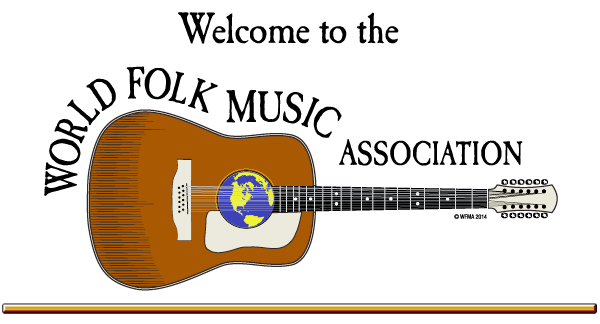 WFMA News
The World Folk Music Association was very saddened by the news that one of the finest songwriters of our time, passed away on August 3, 2020. He was 78.

Rolling Stone magazine once called him "the greatest songwriter in the English language" and earlier this month, the American Songwriter online magazine compared him to writing that both men "imbued their songs with heartfelt, sentimental tenderness. Each of them wrote lyrics of unforced grace and elegance, using language wistful and concise to create genuinely poignant songs." Michael wrote hundreds of songs, recorded by over 30 artists. He is best known for "The Dutchman", first recorded by Steve Goodman and eventually recorded by many, many others.

We were fortunate to be able to include Michael in 3 of our annual benefit concerts. In 1999, Michael participated in our "The 20th Century is Almost Over" tribute to Steve Goodman, during the 14th Annual Benefit Festival. And, as a member of Weavermania, Michael joined us for both our 17th Annual Benefit Weekend in 2002, and the 18th Annual Benefit Weekend in 2003.

One of the highlights of our 1999 tribute to Steve Goodman came at the end of 's set and the begining of the set by Together, along with the Birchmere audience, they sang Michael's classic, "The Dutchman." You can watch the video of that moving performance below:




WFMA's monthly Showcase Series is held at , an outstanding restaurant in downtown Bethesda, MD, just 3 blocks from the Bethesda Metro (and with plenty of FREE parking on Sundays). These showcases are normally held on the second Sunday of each month (at 7 PM unless otherwise noted). Our goal is to bring you performers who have been favorites at our events over the years and introduce new performers to you as well.

WFMA is now registered as a non-profit organization with AmazonSmile. You can support our mission of presenting quality live music performances simply by starting your Amazon shopping at AmazonSmile! Once your Amazon account is registered in AmazonSmile, Amazon will donate .5% of all eligble purchases made thru AmazonSmile to WFMA. So please help us continue to provide outstanding concerts in the DC area by taking these two simple steps:

Register your Amazon account by signing in to your Amazon account one time, using this link: https://smile.amazon.com/ch/46-2175648)
Bookmark this link :https://smile.amazon.com and start all your Amazon shopping there. AmazonSmile is the same Amazon you know. Same products, same prices, same service.




Our good friend Jeannie Brand was featured on the August 18, 2018 edition of the So Important! podcast on PodBean. Jeannie talked about her experiences growing up as the daughter of the legendary folk singer Oscar Brand, who was not only a prolific song writer and performer in his own right, but he also played a critical role in helping to launch the careers of Joni Mitchell, Bob Dylan, Arlo Guthrie, and countless other great performers. Jeannie discusses Oscar's close association with WFMA and mentions our tribute concert, Remembering Oscar Brand held on October 29, 2017. Take a listen, and if you find it interesting, you might also enjoy reading more about Jeannie's experiences in her recently published memoir, The Folk-Singer's Daughter. You can find it at Amazon.

We are excited to be able to offer three new items by in our online store. We now have available the outstanding, The Chad Mitchell Trio: Then and Now 3 DVD Set, which contains footage from several of the Trio's early 60s TV appearances, as well as the 1987 Reunion Concert with John Denver, and more recent concerts in Spokane, WA and Bayfield, WI. Also available are the The Chad Mitchell Trio: Then and Now Scrapbook and a CD single, "The George Bush Society."

Also available for the first time in the WFMA Store are 10 CDs by and

On June 25, 2016 we had the honor of presenting in an intimate, house concert setting at the home of Bruce Cohen, in Silver Spring. In the 60s, Pie was a member of the The Pozo Seco Singers, whose recording of "Time" reached #1 in major markets throughout the US. After leaving The Pozo Seco Singers, Pie's solo career included the release of several CDs, most notably the critically aclaimed So Little Has Changed, in 2008, and her being inducted into the Old Time Country Music Hall of Fame in 2015. gave a wonderful, intimate performance, with a short opening set by local singer-songwriter, Len Jaffe. You can find out more about the concert here.

The Side by Side Aloha Concert on September 26, 2015, at the Jewish Community Center in Rockville, MD was an amazing evening of music.

This was the last opportunity to see in concert before Doris Justis retires and moves to Hawaii. Doris and Sean were joined by three of the best instrumentalists around, Paul Prestopino, Bob Hefferan and Ron Greenstein. And other friends of dropped in to join in the celebration, including two-time Grammy Award winner, our "special surprise guest," and, as a complete surprise to Doris and Sean,


An Evening with the Chad Mitchell Trio and Friends: The Farewell Concert

On Saturday, November 15, 2014 we presented the last U.S. performance by The Chad Mitchell Trio. Aside from a cruise in March of 2015, this was the very last opportunity to hear the music of this trio that has delighted audiences for over 50 years. This final concert was held at the beautiful Betheda Blues and Jazz Supper Club in downtown Bethesda, MD. There were some special surprises and of course, time to remember and celebrate the life of Father Joe. While no one could take Joe Frazier's place, Ron Greenstein, who has played bass for the trio since 2009 and has been filling in for Joe on vocals since 2011, joined Chad and Mike for the concert. Also sharing in this celebration were and the Gaslight Singers.





To receive WFMA updates via email, request to be added to our email mailing list.