An Evening with
Sunday, June 16, 2019 - 7:00 PM
We hope you to join us for an amazing evening of music by the one and only,
delighted audiences at both our 15th Annual Benefit Weekend in 2000, and our 18th Annual Benefit Weekend in 2003. He also did not disappoint fans who gathered at the home of Bruce Cohen, in Silver Spring, for our very first WFMA House Concert in 2012. We are delighted to have him back for another concert on June 16.
Jack's music was shaped by a 50+ year career of playing folk, rock, jazz, R&B, classical and the popular music of the 30s, 40s and 50s. He is counted among the most dynamic performers on today's "folk" circuit - "...one of the most enlightened and entertaining performers I've ever encountered", said Dave Humphreys of Two-Way Street Coffeehouse in Downer's Grove, IL. Jack is considered a "musician's musician", an uncommonly unique guitarist, a writer of vivid songs with a strong sense of place, and a storyteller in an old Southern tradition who further illustrates each tale with his guitar. Rich Warren of WFMT Chicago's The Midnight Special said, "His artistry is nothing short of amazing". Vic Heyman, in SING OUT!, wrote, "He is one of the strongest guitar players in contemporary folk."
Avoiding the compromises of the commercial music industry during his 50+ year professional career, Jack prefers touring under the radar, playing concerts, large and small, week in and week out, from the sheer love of music and performing. Playing for more than 50 house concerts each year, Jack enjoys the intimacy of that venue most of all, with a more personal connection to his listeners. From acclaimed appearances at the Newport, Boston, Philadelphia, Kerrville and New Bedford SummerFest Folk Festivals, his musicianship, songs, stories and commanding presence have established him as an uncommonly inspiring and influential performer.
---
Location: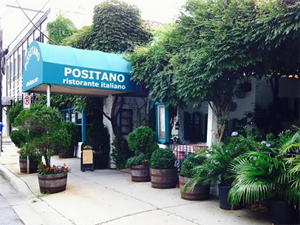 , in the heart of downtown Bethesda, MD, has been owned and operated by the Traettino family since 1977. Positano is a outstanding, full-service Italian restaurant serving lunch and dinner seven days a week.