19th Annual Benefit Weekend

Each January, for the last 18 years, the World Folk Music Association has sponsored an exciting folk music extravaganza, bringing together a unique mixture of both well-known and lesser known folk performers. It has always been a wonderful opportunity to see and hear your favorite folk performers as well as become aquainted with new ones. In 1997 the concert was expanded from a single evening in a large concert hall to a full weekend of folk music at one of the best listening rooms in the country:

Again, on January 16 and 17th, 2004, many folk singers and performers gathered at the Birchmere Music Hall in Alexandria, VA to participate in the 19th Annual World Folk Music Association Benefit Weekend. The Friday, January 16 concert featured a tribute to the late who died in an aviation acident 20 years ago this summer.
See the photos of the Friday night concert and the Saturday night concert.
The 19th Annual WFMA Benefit Weekend also included the presentations of the WFMA Lifetime Achievement Award to Dave Van Ronk (posthumously), the John Denver Memorial Award to and the Kate Wolf Memorial Award to
Reserved seating ticket holders for the Saturday night show also attended a reception with the performers at the Headquarters Hotel. You can see photos of the reception here.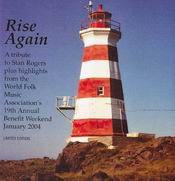 Rise Again, a CD containing highlights of the 19th Annual WFMA Benefit Weekend is now available. The price is $15.