16th Annual
Benefit Weekend
Saturday, January 13, 2001
---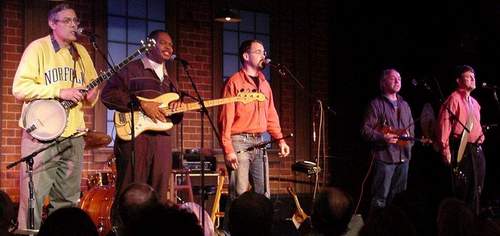 a group from the Tidewater area of Virginia opened the Saturday night show. The group is made up of Jerry Cronin, Carlton Lillard, Jim Crutchfield, Andy Cleveland and Chip Vogan.
---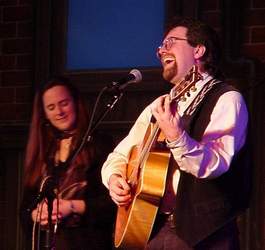 Local favorites and Mary Byrd Brown were next on the bill.
---

Doris Justis and Sean McGhee, did a set that included Joni Mitchell's "Urge for Going". They were later joined on stage by Pete Kennedy (far left), Bill Danoff (center) and Jon Carroll (far right) for a up-beat rendition of "Afternoon Delight".
---
Before began his set, Doris Justis presented him with the WFMA John Denver Award. Jon Carroll joined Bill on stage for "I Guess He'd Rather Be in Colorado", Pete Kennedy came up to help on "Potter's Wheel" and then, with assistance from the Kennedys, Side by Side and Jon Carroll, Bill did several songs including "Friends With You" (below).

---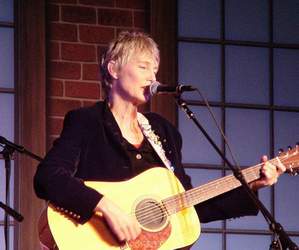 's set included "Greenfields", written by her father, Terry Gilkyson. She was accompanied on that song by Bob Haworth, who at one time was a member of the Brothers Four.
---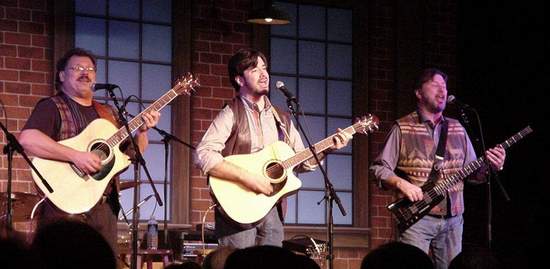 Finishing out the first half of the evening was Denny Breau, Dave Rowe, and Dave's Dad, Tom (Grandpa) Rowe. They began with a song written by Dave, "Gonna Miss You" and followed it up with two songs by Denny, "Louisiana Mud" and "Long Way to Go". They also did a Chuck Pyle song, Cadilac Cowboy" and they finished with a great rendition of Gordon Lightfoot's "Alberta Bound". During that song, Christine Lavin made a surprise guest appearance twirling her lighted batons.
---
During intermission, concert goers discuss their music purchases, and chats with fans.
---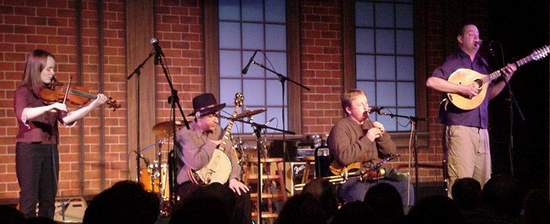 Opening up the second half with humor and great music was a group from Ireland,
---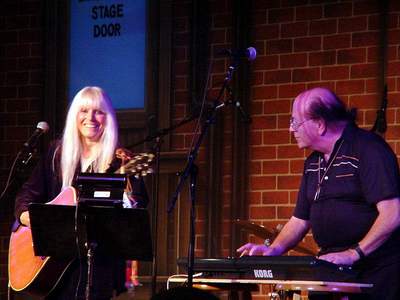 accompanied by David Blum on keyboard, did several songs, including Tom Paxton's "The Last Thing on my Mind" and of course, "King Kong Blues".
---

brought back many of the performers from the previous evening's performance for his set with his wife Buffy. Above are Pete Kennedy, Chuck McDermott, Henry Diltz, Dennis the D-man, John Stewart, John Hoke, Dave Crossland, Maura Kennedy and Buffy Ford. (Dave Batti was there somewhere as well). The group did a set that included "Daydream Believer", "Gold" and "Never Going Back".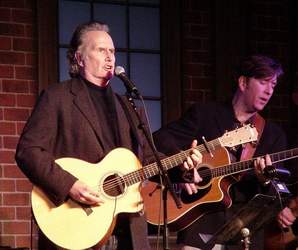 with John Hoke.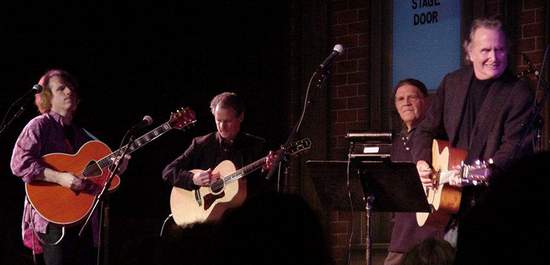 Pete Kennedy, Chuck McDermott, Henry Diltz and
---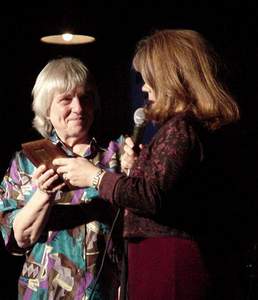 Maureen Harrigan (right) presents the WFMA Appreciation Award to Sonny Ochs, sister of the late Phil Ochs, for her many contributions to the folk music community.
---
began her set with "Harrison Ford" and then moved into the audience looking for Mr. Right. Below, the lucky man (and others), help Christine do "Sensitive New Age Guys".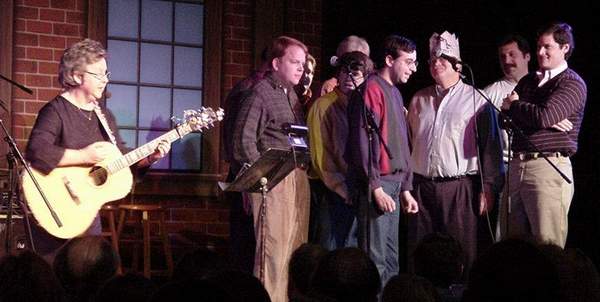 ---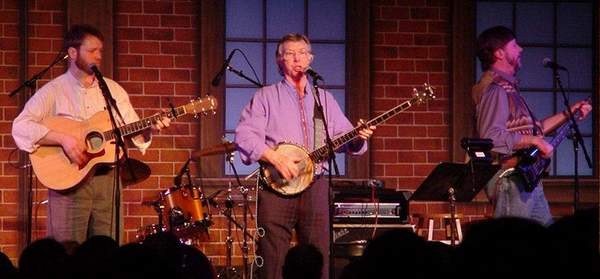 accompanied by his son, Connor and Tom Rowe, brought the evening to a close with a set that included "The Rambles of Spring", "Wild Mountain Thyme", "Wee Willie" and the "Winds are Blowing Freedom". He concluded with a magnificent (as usual) rendition of "Four Green Fields".
---

All of the performers gathered on stage for the evening's Finale, Bill Danoff's "Take Me Home, Country Roads"
---

See pictures of the Friday night concert
Go to the 16th Annual Benefit Weekend main page