Tribute to
John Stewart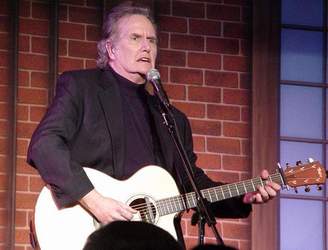 Dick Cerri (left) got the evening underway by introducing Jeff McDonald (right), who sang "Thank You, Lonesome Picker", a song he wrote as a tribute to
---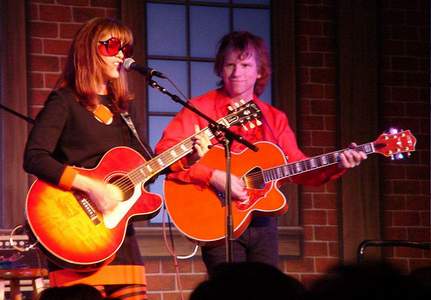 Guitar wizards (Pete & Maura) were next on the program with a colorful set that included "Life is Large", "Run Red Lights" and a medley of "Rapohanock" and "Orange Blossom Special".
---
| | |
| --- | --- |
| began his set with John Stewart's "Arkansas Breakout" and followed it with "Blood in the Fields", a song he introduced as '...the best John Stewart song I have ever written.' He finished with a very moving rendition of Stewart's "Botswanna". | sang three John Stewart songs: "Eyes of Sweet Virginia", "Walk on the Moon" and "Long Train of Dreams". |
---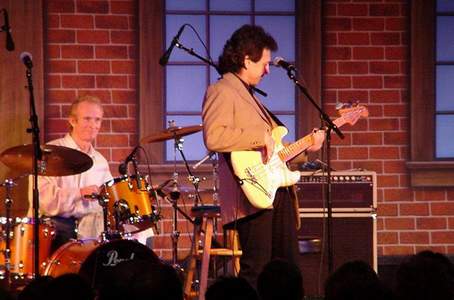 with some help from Dennis, 'the D Man' Kenmore on drums, began with a jazzy rendition of John Stewart's "Dead Snakes" and concluded with another of John's animal songs, "Bad Rats".
---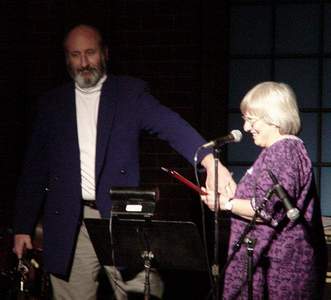 Following Dave's set, Sonny Ochs, sister of the late Phil Ochs, made the presentation of the WFMA Kate Wolf Award to of Peter, Paul & Mary.
---
began his set with some imitations of different types of automobiles and then sang three songs, "For the Love of it All", the second verse of which was inspired by John Stewart's "Irresistible Targets", "By Myself", and "Love Rules".
---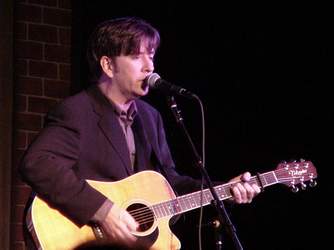 sang two of John Stewart's songs, "Dreamland" and "Irresistible Targets".
---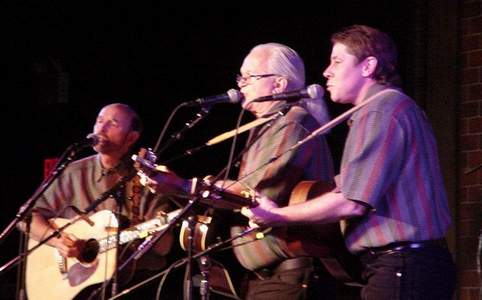 George Grove, Bob Shane, & Bob Haworth, brought the first half of the show to a rousing finish with "Hard, Ain't It Hard", John Stewart's "Chilly Winds", and, of course, "Tom Dooley".
---
During intermission (left), concert goers take advantage of opportunity to purchase CDs and tapes of the evening's performers. Before the second half begins, Maureen Harrigan (right) reads the winning raffle numbers.
---
Buffy Ford opened the second half with a beautiful a capella arrangement of "If You Should Remember Me" and then sang another of John's tunes, "Wilderness". John then joined her on stage to sing "Dreamers on the Rise".
---
who was a member of the Modern Folk Quartet and is now a world-renowned photographer, began with the first public performance of John Stewart's "Wheaties in the Afternoon" and then, joined by Chuck McDermott, John Hoke & Dave Batti, finished with a rousing version of John's "California Bloodlines".
---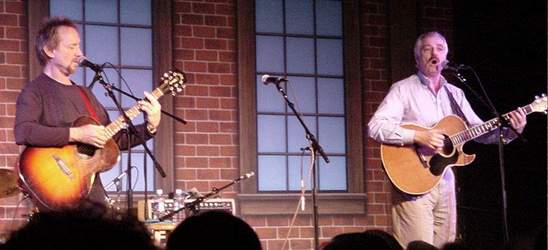 and did a set that included "Easy Rider", "All I Ever Wanted" and John's contribution to the Monkee's success, "Daydream Believer".
---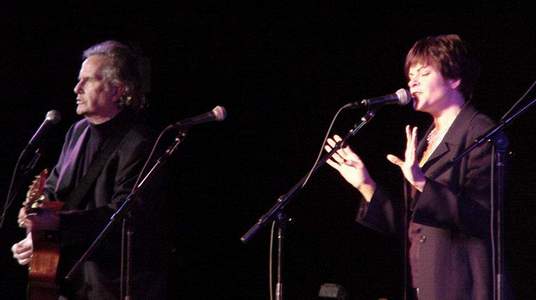 was joined on stage by John Stewart. They began with a song they wrote together, "Dance with the Tiger", followed that with John's "Price of Fire" and finished the set with "Runaway Train''.
---
then took the stage, backed by Pat McInerny on drums, Ron De La Vega on bass and James Hooker on keyboards. John Stewart and the Kennedys also came on stage to help out with the John Stewart songs "Armstrong", 'Lost Her/Him in the Sun" and "Sweet Dreams Will Come".
---
Following Nanci's set, Chuck McDermott (left) presented with the WFMA Lifetime Achievement Award.
---
began his set with his own "Star in a Black Sky Shining" following it with "Ain't No More Cane on the Brazos", a song that he had hoped Odetta would sing, but she was unable to be present. John then invited the Kingston Trio back on stage for "The Reverend Mr. Black". George Grove and Bob Haworth began the song with him and several of the other performers, including Rosanne Cash, Maura Kennedy and Nanci Griffith joined in later.
---
All of the evening's performers then joined John on stage for the Finale, which began with "Daydream Believer", followed by "Gold". The final song 'Never Going Back' evolved into many other songs, including "Hey Jude", "Amazing Grace", "Dancing in the Streets" and "Five Feet High and Rising", before the other performers left the stage, leaving just John and Buffy to say goodnight.
---

See photos of the Saturday night concert
See a photo from the Saturday afternoon video showing.
Go to the 16th Annual Benefit Weekend main page