was raised in a family in which music was as essential as oxygen. Listening to it, dancing to it, playing it. In Hugh's case, that meant singing, and playing piano and banjo (and guitar, when his brother, Liam Tomas O'Doherty, wasn't looking). In high school, he sang in acoustic groups with Liam and other friends. Like Liam, Hugh started writing his own songs, and acting in the school plays. Hugh continued acting in college, while playing many of the campus coffeehouses in the Middle Atlantic States. He then carved a career, flying rescue aircraft, from hangars along American and Canadian shorelines. Meanwhile, he conducted the parallel artistic pursuit of playing for the acoustic audiences of many of those regions, and engaging in California, New England, and NYC songwriting communities.
His live performances take the audience from romance to satire, and from riveting emotional issues to downright self-deprecating silliness. Hugh lives in, and sings about, the real world. He puts the frameworks of human connections into perspective with songs of: love, humor, childhood, friendship, marriage, parenthood, blended families, justice, environmental issues, and other contemporary topics.
Hugh has performed at places such as: Club Passim, Cambridge, MA, The Minstrel, Morristown, NJ, Folk City, NYC and Godfrey Daniels, Bethlehem, PA.

---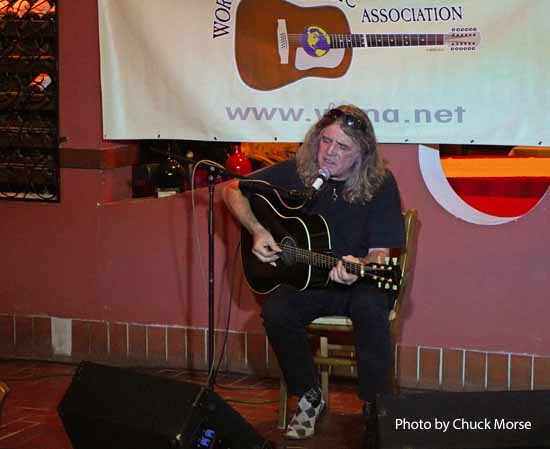 Ready for a unique and talented take on a wide range of musical traditions? is known throughout Europe and America for amazing guitar performances that take blues, Spanish, and Middle Eastern stylings into uncharted territories.
Claude's inimitable style incorporates all five digits on each hand dancing independently but in unison, plucking, picking and strumming at such speed and precision that his fingers often seem to melt into a blur. Thousands of people in the UK, Europe and USA have enjoyed listening to this virtuoso and for the majority of his audience it is an experience that compels them to return again and again to hear and watch him play, as his fingers lightly dance over the strings of his guitar and create a unique sound that is 'Claude'.
weaved his songs through the audience as if on a journey through life taking in different flavours of Europe and beyond. His Spanish medieval blues evolved into Gypsy, Eastern European, with a splash of Paco de Lucia, Delta Blues and more. Holding audience attention under a musical spell.
Claude has played countless venues, including Glastonbury Festival, Isle of Wight Festival, Colne Great British & Blues Festival, Rock O'Z Arene, Avenches, Switzerland, among others. He has shared the stage in Europe and the USA with countless musicians, Calvin Russel, Charlie Morgan (Elton John, Gary Moore), Jan Akkerman (Focus), Steve Grossman (Miles Davis), Herbie Armstrong ( Van Morisson), Jose barrense Dias and many more.