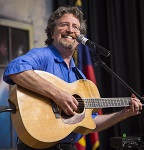 Since permanently leaving his corporate environmental engineering career in 1996, award-winning folk/Americana artist 's musical journey has traced nearly a million miles of blue highways, and earned him a wealth of critical acclaim and enthusiastic fans for his captivating performances and seven recordings. Andrew's powerful and entertaining show is like one man theatre, delivered with warmth and down-home comfort. His finely crafted songs are woven together with humorous stories and poetic drama, while the musical soundscape traverses influences from Appalachia, tasteful slide and jazzy blues, feisty anthems, rustic folk, and even a little fancy flatpicking on a Carter Family tune. While his skillful guitar work provides a tasteful foundation, the touches of native American cedar flute, resonator guitar, djembe (African hand drum) and even mandolin add delightful and mesmerizing embellishments to the show. He has performed at many prestigious venues including the Kennedy Center, the International Storytelling Center and the Atlanta Olympics, has been part of the Rocky Mountain, South Florida, Boston and Delmarva Folk Festival lineups, and a guest on NPR's "Art of the Song" and "River City Folk" shows.

---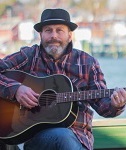 Musician draws on a diverse range of influences, including Lyle Lovett, Taj Mahal, Louis Armstrong and Doc Watson to name just a few. Images and music – crafted stories underpinned by a melodic guitar style that draws the listener in to the story.
Alternative country, old time, folk and blues best describe the music. Performances may include a favorite old fiddle tune such as "Blackberry Blossom" or the Vince Gill/Guy Clark gem "Jenny Dreamed of Trains", the beautiful folk standard "If I Needed You" by Townes Van Zandt or the country blues standard "Corrina". He is an award winning songwriter and a frequent contributor at local songwriter showcases such as The 9 Songwriter Series.
He performs frequently throughout the region and has headlined recently at 49 West in Annapolis, Brewer's Alley in Frederick and New Deal Café in Greenbelt, Maryland. He has performed at festivals throughout the Mid-Atlantic region including the Virginia Fly Fishing and Wine Festival in Waynesboro, Virginia, the barBAYq in Annapolis, Maryland, and the Oyster Fest in St. Michaels, Maryland, where he was invited to perform his song "The Boatbuilder", a story about legendary boatbuilder Bronza Parks.
"Singer/songwriter Mike Kelly is a master at putting story to song. Kelly, with his gentle stage demeanor, makes this happen with a combination of his accomplished guitar playing, catchy melodies, hook-filled lyric lines and a healthy dash of wit.." HG Coffeehouse, Accokeek, MD

---
Information about the other performers will be available soon.