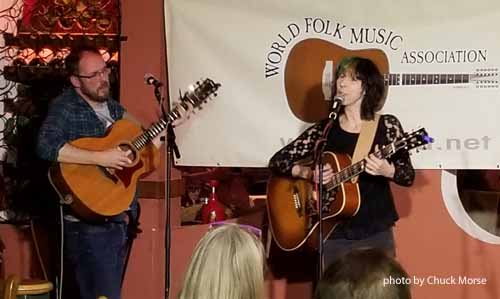 Annette Wasilik with Brian Evans
In April 2015, Indie-folk rocker debuted her CD of originals Songs from the Talking House. It caused a bit of a stir and in 2016 won Best Contemporary Folk Recording of the Year from WAMA, The Washington Area Music Association. Later that year, her song "Don't Look Down" won an Honorable mention in the 2015 Mid Atlantic Song Contest. She performs at local and regional venues and festivals, co-hosts a popular monthly songwriter's circle and is the founder and curator of the songwriters' performance series Riverdale Rail Concerts, which features the best local and regional talent.

Annette Wasilik with Brian Evans, John Werntz (far left) and Evan Sands (far right)
---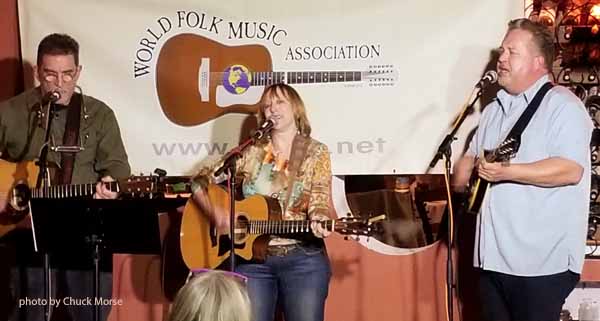 Michelle Murray
is an award-winning performing songwriter in the Maryland D.C. area. She plays a combination of originals and covers that span genres including Americana, Folk, Bluegrass, Country, Singer Songwriter and a touch of the blues. Michelle has received multiple Wammie (Washington Area Music Award) nominations including Best Contemporary Folk Recording, Best Contemporary Folk Duo/group and Best Country/Bluegrass band.
An accomplished lyricist, several of Michelle's songs have received airplay and recognition on numerous radio stations and programs including WERA-FM on the Music Alley Radio show, MyRuralRadio.com, Women of Substance Radio, NWCZ radio, and WETA-FM. Her song "Married Women" was selected as an Editor's Pick on Washington Post MP3's web site and her song "Wandering Heart" won an honorable mention in the Song of the Year contest.
Michelle has performed in various venues and festivals in the Washington D.C. area, including Bethesda Blues and Jazz Supper Club, The Barns at Wolf Trap, Gypsy Sally's, The Takoma Park Folk Festival, The 9 Songwriter Series, The New Deal Café, Jammin Java, Focus Music Concert Series and the Mountain Stage New Song Festival.
Michelle's latest EP release, This Life, My Life, will be released on March 11th, 2018. <!- This EP includes songs recently signed to several prestigious music publishers. -->

---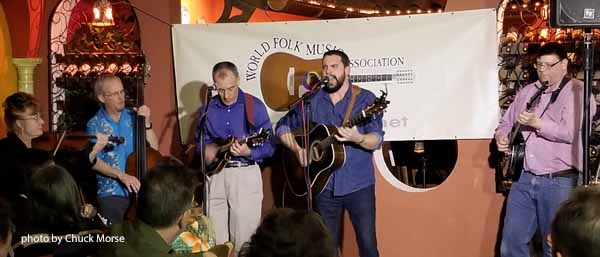 Old Town Tradition
Playing their own blend of Bluegrass, Country, Blues, Folk, and Americana Roots music, the is a band based in the Washington DC Metro Area. Performing at local venues, regional festivals and other events, the group is sure to please Bluegrass and "Newgrass" lovers everywhere. The band met in Alexandria, VA at the Tiffany Tavern, a venerable Bluegrass staple in the Old Town area….hence was born. Members of the band range in both age and geography, and each brings their own flavor to the mix. Marlo Lewis has been tearing up the Mandolin for over seven years. Also a singer and avid guitar player, Marlo is originally from Scarsdale, NY. Pamela Ferguson is a freelance violinist who plays classical, jazz, klezmer, and now bluegrass! She also teaches classical violin privately and in the public schools. Brian Renzella is originally from near Wheeling, WV. Brian is a self-taught singer and guitarist with a love for Pickin' and Grinnin'. John Werntz hails from the Philadelphia area where he learned to play the upright and electric bass. He learned bluegrass music playing with Whetstone Run in State College, PA. Evan Sands is the newest member of the band. He's been playing banjo and singing for over 30 years now. Evan is a huge Bela Fleck fan (but then again, who isn't?)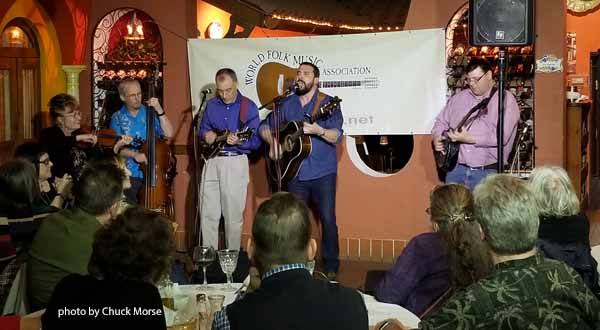 Old Town Tradition