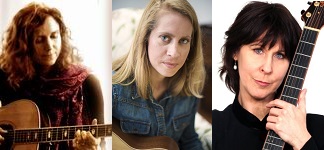 : These three singer-songwriters, provide exquisite 3 part harmonies and interesting instrumentation (pods? what...come see and hear) as they perform their original music and some beautiful covers. Each is an accomplished solo performer and combined they are a powerhouse of beautiful music, song after song.
Blend a powerful singer, crisp acoustic guitar player and a heartfelt observer of the world and you have singer-songwriter, Her "indie-folk-pop style" (Leicasterbangs, UK) reflects an infusion of many influences including great jazz artists, such as Ella Fitzgerald, to contemporary influences of John Hiatt, Shawn Colvin and CSNY. The resulting blend~her own voice mingling wit, a smoky sweetness and thoughtful reverie to her songwriting and performance.
is a singer-songwriter with acoustic and folk-rock influences. She delivers a strong vocal performance with memorable melodies for fans of Sheryl Crow and Shawn Colvin. Nicole has recorded four albums of original music. She has been featured on local radio stations and has performed in a variety of venues across the United States. She was named best emerging artist at the Sea Level Songwriting festival, was recipient of the "Best Vocalist" award from Singer Universe Magazine in Los Angeles, and has been nominated for a Wammie. Nicole also received an honorable mention in the Mid Atlantic Songwriting Contest. She lives in northern Virginia.
If John Prine and Natalie Merchant had a daughter, you'd have an idea of DC-born 's sound. She writes award-winning songs of love and longing; angels and demons. In the spring of 2015, Annette debuted her album of originals, Songs from the Talking House. It took home the WAMMIE (Washington Area Music Association) for Contemporary Folk Recording of the Year. She performs at local and regional venues and festivals and co-hosts a popular monthly songwriter's circle at Airshow Mastering.

---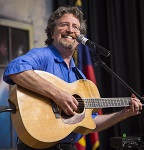 Since permanently leaving his corporate environmental engineering career in 1996, award-winning folk/Americana artist 's musical journey has traced nearly a million miles of blue highways, and earned him a wealth of critical acclaim and enthusiastic fans for his captivating performances and seven recordings. Andrew's powerful and entertaining show is like one man theatre, delivered with warmth and down-home comfort. His finely crafted songs are woven together with humorous stories and poetic drama, while the musical soundscape traverses influences from Appalachia, tasteful slide and jazzy blues, feisty anthems, rustic folk, and even a little fancy flatpicking on a Carter Family tune. While his skillful guitar work provides a tasteful foundation, the touches of native American cedar flute, resonator guitar, djembe (African hand drum) and even mandolin add delightful and mesmerizing embellishments to the show. He has performed at many prestigious venues including the Kennedy Center, the International Storytelling Center and the Atlanta Olympics, has been part of the Rocky Mountain, South Florida, Boston and Delmarva Folk Festival lineups, and a guest on NPR's "Art of the Song" and "River City Folk" shows.

---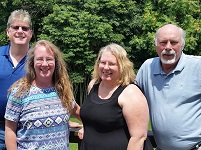 from Northern Virginia, describes itself as "Americana With Attitude." Formed in 2013, they cover blues, bluegrass and old-timey, country, folk, jazz, pop, folk, and Celtic music. Tim Noone (harmonica, guitar, vocals), comes from old-timey and blues; Heather Butler (fiddle, vocals) from old-timey and Celtic; Brigitte De Haven (vocals, keyboard), from jazz and pop; and Ray Sheehan (guitar, vocals) from Celtic, pop, and folk.

---