Tom Paxton
A Celebration of a Man and His Music
May 3, 2008
Preview of the Tom Paxton Celebration Concert DVD
Now Available!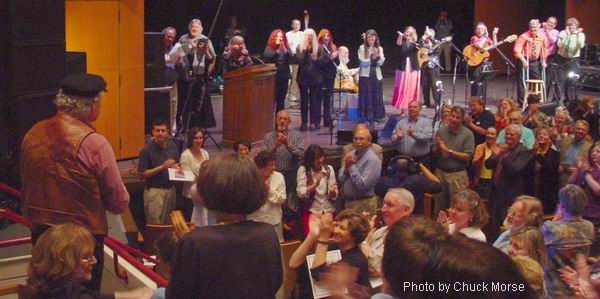 It was an emotional moment: More than 1,000 friends and fans from over 22 states and as far away as the United Kingdom came to honor folk legend in "A Celebration of a Man and His Music" Saturday, May 3 at the Rachel M. Schlesinger Concert Hall and Arts Center, , on the Alexandria campus of Northern Virginia Community College. picked Paxton's "Peace Will Come" to sing with artists who performed in the first half of the concert. Then she got the audience to stand and sing while facing Tom seated in the audience with his wife Midge and other family members. At the conclusion of the song everyone applauded as Tom stood to acknowledge the tribute. There were few dry eyes in the concert Hall.

In addition to Tom Paxton, the performers who appeared in person included:


In addition to live on-stage performances, a large television screen was utilized to present performers unable to attend but wanting to participate in the tribute, including Nanci Griffith, Tom Rush, Steve Gillette and Cindy Mangsen, The Kennedys, Schooner Fare and others.
was held at the the Hilton Alexandria Mark Center Hotel.
Light food and beverages were available before the show and during intermission. Catering for this show was provided by:


Garage parking across the street from the Schlesinger Center was paid for by

Traveling Troubadour
Cruises & Tours.
You can now view the photos of the Tom Paxton Tribute Concert.