Joe Glazer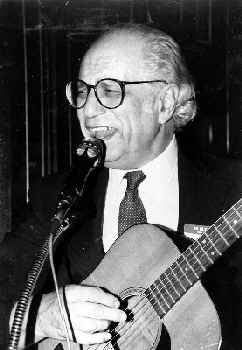 Folksinger and social historian Joe Glazer has been collecting, composing, recording and singing songs of workers, protest, politics and social commentary for more than 50 years. His voice and guitar have been heard in almost every state and in 60 foreign countries where he interpreted American life in song and story for the United States Information Agency.
Joe's book, "Songs of Work and Protest," is considered a classic in the field. His songs and comments have been heard on "The Today Show," "Sunday Morning," "Nightline" and on other network TV and radio shows. His credits include the White House, Madison Square Garden, the Voice of America, National Public Radio's "All Things Considered," C-SPAN, the Smithsonian Institution and dozens of universities.
He has recorded more than 30 albums, CDs and cassettes with songs about working people, social movements, the environment, politics and American immigrants. His latest recording is "The Music of American Politics," highlights of American political history told through its campaign songs.
Joe's latest book, "Labor's Troubador," published by University of Illinois Press, is a memoir of his musical adventures in the labor movement and in politics. In the book, he tells of sharing platforms with political powerhouses including Harry Truman, Eleanor Roosevelt, Hubert Humphrey, John F. Kennedy, Lyndon Johnson, Ladybird Johnson, Jimmy Carter and Bill Clinton. With sparks of humor he describes his encounters with Rudolf Serkin, Jackie Kennedy and other celebrities, as well as his relationships with Walter Reuther, George Meany, Phillip Murray, Cesar Chavez, John Sweeney and other outstanding leaders in the labor movement. "Labor's Troubador" reveals the powerful role music can play in the serious business of changing the world.
Joe Glazer died of non-Hodgkin's lymphoma on Sept. 19, 2006 at his home in Chevy Chase, MD. He was 88.
Note: This information was posted to the web site when Joe appeared at our 17th Annual Benefit Weekend, January 18-19, 2002, and updated on Nov. 7, 2006.