David Buskin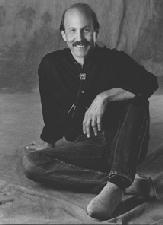 David Buskin attended Brown University in time for the 60s folk boom, supplementing his income gigging with various folk and rock bands. After Brown, he moved on to The Berklee School of Music in Boston where he began to write songs. After selling five songs to Mary Travers for her album, Morning Glory, Buskin toured with her a couple of years as her opening act and later signed with Epic records in the early '70s. He recorded two albums in Nashville and later toured with the rock group Pierce Arrow, recording two albums for Columbia. In the band, Buskin met kindred spirit and folkie Robin Batteau, and the two decided to become a duo. The relationship lasted until 1990, and together they became one of the class acts and familiar sounds of the '80s. Buskin's latest CD, Heaven Is Free Tonight, has been released to a chorus of critical acclaim.
At the 1999 WFMA Benefit Festival, David was the recipient of the Kate Wolf Award.
Note: This information was posted to the web site when Buskin and Batteau appeared at our 13th Annual Benefit Weekend, January 16-17, 1998 and the 14th Annual Benefit Weekend, January 15-16, 1999.