Sunday, April 26, 2020
7:30 PM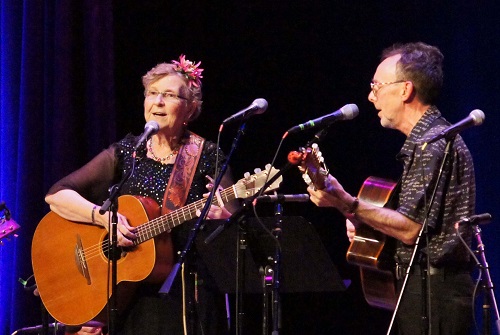 Brought together by the music of John Denver and radio host Dick Cerri, Doris Justis and Sean McGhee performed together for over 31 years before Doris retired from her day job and moved to sunny and warm Hawaii in 2016. Singing and playing guitars, they were celebrated for their close harmonies and fun stage presence. For many years they were the houseband for the "Music Americana/WFMA Showcases." Doris had been a mainstay of the local folk scene as a concert performer, producer, coffeehouse regular and host of her own radio show and production manager of Dick Cerri's Music Americana. Sean is an outstanding tenor vocalist and guitarist, with a quick wit and irreverent sense of humor. A master of the 12-string guitar, he has been featured as one of the "Three Folk Tenors."

For this concert, Doris and Sean will be joined by former accompanists for the Chad Mitchell Trio, Ron Greenstein and Paul Prestopino.

We are delighted that Doris is planning a trip back to the DC area to visit friends and family and for giving us this opportunity to present Doris and Sean together again after a 4+ year absence.

Location:
The Kreeger Auditorium is a beautiful, state-of-the-art, 290 seat auditorium just inside the main entrance to the Bender JCC of Greater Washington and was the site of the Side by Side Aloha Concert on September 26, 2015, the last concert before Doris moved to Hawaii. The Bender JCC is located at the corner of Montrose Road and E. Jefferson St. (6125 Montrose Road) in Rockville MD, on the Charles E. Smith Community Service Campus. (Get directions) The Center is accessible from both the Twinbrook and White Flint Metro stops, and offers free on-site parking.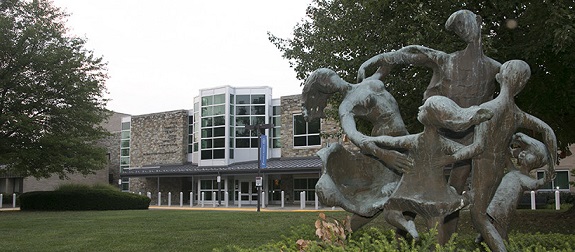 Hotel: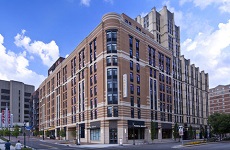 If you are coming in from out-of-town, you may want to stay at the Cambria Hotel & Suites Rockville, located in downtown Rockville, approximately 3 miles from the Bender JCC.
A block of rooms will be available at a special WFMA Side by Side Reunion rate of $105 per night for single or double, plus tax. The room block has been reserved for the nights of 4/24/20 - 4/26/20 and the rate will be good from two days before to two days after those dates. Reservations at the group rate are now being accepted. You can make your reservation online by clicking on this link:

Reserve Your Room
Note: When using this link, the group discount will automatically be applied and the arrival and departure dates will be filled in as 4/24/20 and 4/27/20. Be sure to adjust these dates if you are not staying three nights.
You may also make your reservation by calling the hotel directly, at (301) 294-2200. Be sure to mention Group Name: WFMA Side by Side Reunion when making reservations by phone.
The rate includes free parking in the garage adjacent to the hotel. When you check in, remember to ask for a parking pass for the duration of your stay.