A House Concert with
Saturday, June 25, 2016
Silver Spring, MD

In 1964, Don Williams and Lofton Kline met Susan Taylor, a 17-year old high school student with a quick wit and a voice to die for. They soon became a trio and called themselves The Pozo Seco Singers. The trio recorded a song called "Time" which charted number one in the folk-friendly big markets of Los Angeles, Chicago and Boston. Columbia Records signed the group and over the next five years, The Pozo Seco Singers recorded four albums.
Around 1970, Don Williams struck out on his own wildly successful solo career; but he was not entirely on his own. Taylor co-produced, sang and played guitar on three of his chart singles while co-producing her own solo album, Finally Getting Home.
Taylor eventually found her way to the folk clubs of New York, plying her songwriting wares in clubs like O'Lunney's, Folk City, and The Bottom Line, and sharing the stage with luminaries like Don McLean and Tom Pacheco. Her song, "Back in the Bars" caught Bette Midler's ear and she used it for a skit in her Clams on the Half Shell Revue.
As she began to focus more and more on songwriting, Taylor gravitated towards the irresistible pull of Nashville. Artists such as Bette Midler, Tanya Tucker, Mickey Gilley, the Forester Sisters, Terri Hendrix and Don Williams have all recorded her songs. "Just Like Angels" was nominated for the gospel Dove Award, and "Full Grown Fool" gave Mickey Gilley a top twenty hit.
As many great songwriters do, she finally got fed up with the whole scene. In an effort to separate herself from that rat-race life, Taylor reinvented herself. She started calling herself Taylor Pie. And as all great songwriters do, Taylor took all of the frustration, disappointment, depression and anger, shaped it into poetry and poured into it a mold. The result was a self-produced CD, Long Ride Home.
In 2008, Pie recorded her first CD on her new label, PuffBunny Records, So Little Has Changed. It has been called a folk masterpiece. Every song is expertly written, produced, and performed.
In September, 2015, was inducted into America's Old Time Country Music Hall of Fame.
" is worthy of folk buzz...combining a perfect lyrical, musical, and vocal recipe, Pie put on the most refreshing, witty, down to earth show I've ever experienced. Pie IS staple folk comfort food and should be served up in every listening environment across the country." - Lane Gosnay, Founder, THE BUGLE BOY, LaGrange, Texas
is truly a talented folk artist/tune-smith/performer/producer. Take a moment to view the two videos at the bottom of this page and you will understand why we are so excited about this opportunity to present her in an intimate, house concert setting.
Location:
The concert was held at the lovely home of Bruce Cohen in Silver Spring.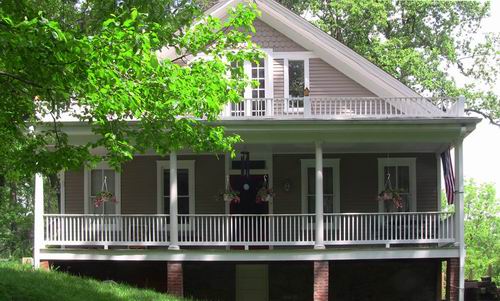 Local singer-songwriter Len Jaffe provided an excellent opening set and sang a few tunes with Pie.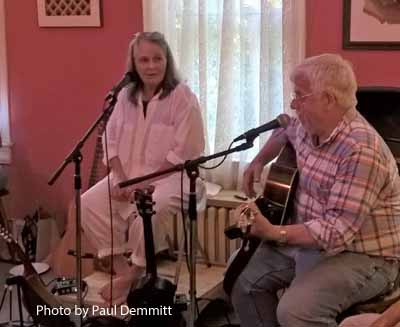 Pie performed many of her own songs and several by other writers. She began her first set with the The Pozo Seco Singers' hit "Time" and ended her performance with "So Little Has Changed." Previously recorded videos of both songs are below:
---