Wayward Street Players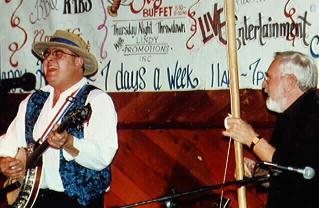 The Wayward Street Players is a totally out of control musical mob that will change your attitude toward music and musicians. A low-tech but high energy trio of musicians who produce what discreet reviewers describe as "unique musical entertainment." A jug band without a jug, members include Douglas Everton on banjo and guitar. Tom Layton plays washboard with cymbals, bells and a variety of noise making gadgets. Wes Butts plays washtub bass that provides a surprisingly rich throbbing bass line for the trio. Don't be surprised if you hear a trumpet, or a trombone or a tuba or the voices of Satchmo, Presley, Cash or the Ink Spots.
Note: This information was posted on the web site when the Wayward Street Players appeared at the 14th Anniversary Showcase in December, 1997.